A Family of Blades
WELCOME TO THE FAMILY...

A Family of Blades is a tabletop roleplaying game about a team of criminals who became a family, broke up, and have now been thrust back together for one last job.

Powered by the Forged in the Dark engine, A Family of Blades has been written with an emphasis on fast-paced one-shots and episodic gameplay. Inside you'll find all the rules you need to play games inspired by the likes of Leverage, Burn Notice, Ocean's Eleven, and the Fast & Furious movies.

FEATURES
Streamlined Forged in the Dark mechanics.
Rules designed specifically for quick starts and quick play.
New playbooks and mechanics to emulate modern heist fiction.
A crisis system to allow you to easily play out your own action or heist movie.
A bond mechanic to reward players for creating crew backstory during play.
Everything you need to start playing straight away!
EARLY ACCESS
The game is currently discounted for Early Access and is compatible with the free Blades in the Dark SRD—you will need to reference the SRD or have a working knowledge of the system in order to play. Your purchase now, however, is also a purchase of the final copy and helps support the expansion and completion of the game.
CREDITS
Created by A.C. Luke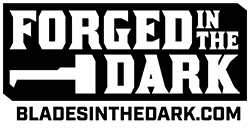 Blades in the Dark™ is a trademark of One Seven Design. The Forged in the Dark Logo is © One Seven Design, and is used with permission.
Purchase
In order to download this game you must purchase it at or above the minimum price of $8 USD. You will get access to the following files:
Family of Blades EA v1.1.pdf
11 MB
FoB Reference Sheets v1.pdf
136 kB
Community Copies
Support this game at or above a special price point to receive something exclusive.
Community Copies
Every full-price copy, or every two sale copies, of Family of Blades you buy helps someone else grab a free copy if their budget doesn't enable them to pay the listed price. If you're unable to budget for a copy of Family at this time, please feel free to claim a community copy.
Download demo
Comments
Log in with itch.io to leave a comment.
This looks awesome. Can't wait to check it out.
I am officially in love with this game. I've been longing for a truly one-shot friendly FitD game, and this is one.